---
Note : This is the classic/original FAQ. For the very latest articles and new content for UK/Ireland users, please visit the Product Knowledgebase here
---
Voice-over-IP

Call1899 Setup
---
| | | |
| --- | --- | --- |
| Before starting, you must already have an account with Call1899; open an account with them at www.call1899.com. Set your SIP settings on your router as shown in the screenshots below (choose the picture corresponding to your own DrayTek Vigor model below). In all cases, replace the 'xxxx' in the diagram with your own Call1899 registered telephone number. The password to enter is your Call1899 account number. | | |
One the router has registered with the Call1899 SIP server, you can make calls over the Call1899 service simply by lifting your handset, dialling the number (with full STD or International prefix) and ending with the # key. For example to dial a UK number it would be :
[ Lift Handset ] 020 8999 1234 #
or for a number in the USA :
[ Lift Handset ] 00 1 555 909 1234
That's all !
Note that Call1899 provides outgoing calls only - they do not currently provide a phone number for you to receive calls on.
---
Vigor2100V Setup :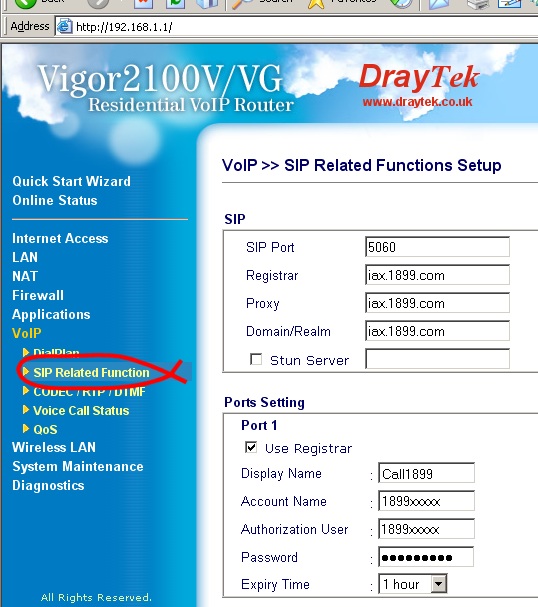 ---
Vigor2500V Setup :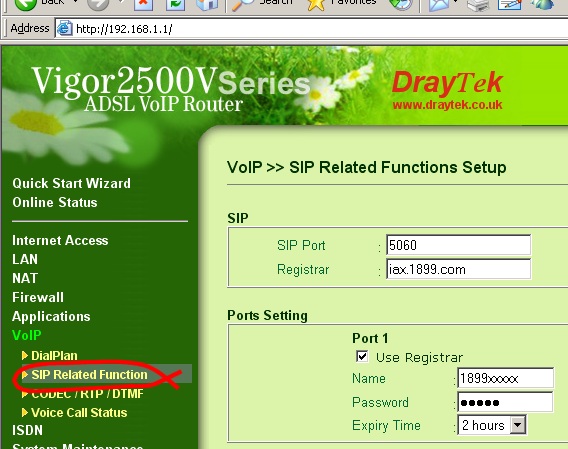 ---
Vigor2600V / Vigor2900V Setup :

Note : As the Vigor2600V/2900V routers have two phone ports, you
can set both ports to use Call1899 if you want to.
---
---
NOTICE : This document is © SEG Communications and may not be distributed without specific written consent. Information and products subject to change at any time without notice.