---
Note : This is the classic/original FAQ. For the very latest articles and new content for UK/Ireland users, please visit the Product Knowledgebase here
---
General Router FAQ

Setting IP routed subnet (non-NAT) configuration on the Vigor 2850
How do I use a public subnet on the LAN (non-NAT operation) ?
In NATted subnets, network devices can communicate on LAN using private IP addresses. Typically, for Internet traffic, router replaces private IP address with single public IP address assigned to the router.
Non-NAT configuration (IP Routed subnet) allows using public IP addresses on LAN and bypassing NAT.
If you have multiple public IP addresses (i.e. a subnet allocated by your ISP as opposed to just a single IP address) you just need to set up the router's second public IP address as IP routed subnet gateway. The rest of your ISP allocated IP addresses will then be passed through to your LAN. Your ISP will inform you of your allocated subnet and subnet mask
You can mix public and NATted IP addresses on your LAN, so that some PCs are on your private (NATted) subnet and others have real public IP addresses.
In this example the ISP has given the connection the subnet 218.25.99.8/29, with 6 usable IP addresses.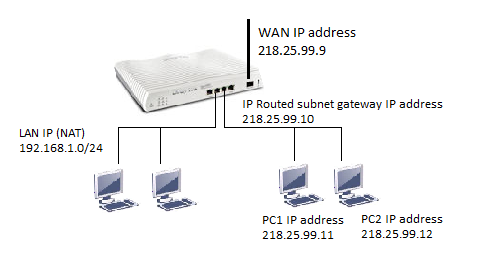 ---
Setting static IP address for Internet access
Click on [WAN] > [Internet Access] > [Details Page] and insert one of the public IP address you received from ISP as shown in IP Address From ISP section in our example.
IP routed subnet setup
Click on [LAN] > [General Setup] and select details page next to IP Router Subnet. Enable it and put another public IP address, from the range which was given by ISP, into IP Address section with correct subnet mask as shown below.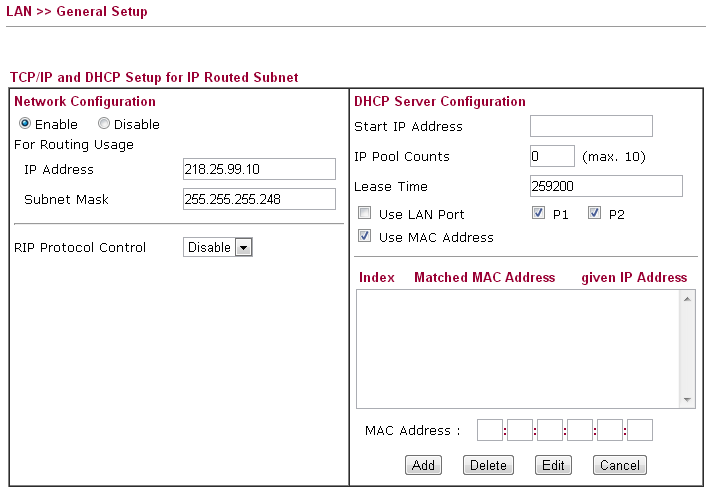 Windows 7 PC IPv4 setup
For the device to set as non-NAT it has to be configured with an IP that is on the IP Routed subnet (non-NAT subnet).
Go to [Control Panel] > [Network and Internet] > [Network and Sharing Center] and select the Local Area Connection link.
In Local Area Connection Status window click Properties button.
In a new window select Internet Protocol Version 4 (TCP/IPv4) and click Properties button.
Specify the IP address of the PC with next available static IP address and correct subnet mask. The Default gateway IP address should be set to the same as specified in IP Routed Subnet section on the router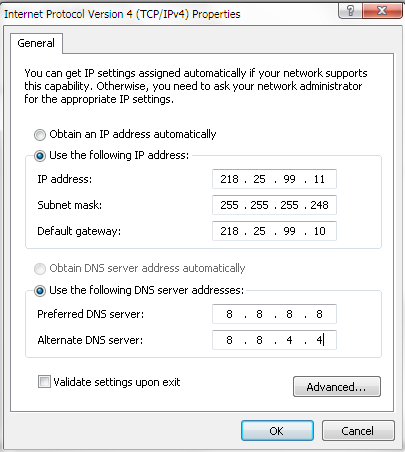 ---
How do I disable NAT ?
You can't actually disable NAT; it's a feature you either use or don't use, so if you don't use it, it just doesn't do anything. The most common reason for asking this question, however, is that users want their public IP address to be allocated to a client PC (or other device) behind the router. You cannot disable (not use) NAT unless you have multiple public IP addresses (a public subnet). Each 'point' on an IP network has to have unique IP address. For example router + client PC would need at least two IP addresses. If your ISP only allocates you a single public IP address then you have to 'create' some more, and we do this usually by using the private subnets (192.168.1.0 etc.). You then have to use NAT to translate one-to-many; to translate from your one public IP address to your many private ones. If you are wanting to put some other firewall or VPN device behind the Vigor, you can still do this with NAT operating - if you enable the router's DMZ facility to point at the other device then IPSec/ESP and PPTP can both be passed through.
---
NOTICE : This document is © SEG Communications and may not be distributed without specific written consent. Information and products subject to change at any time without notice.