---
Note : This is the classic/original FAQ. For the very latest articles and new content for UK/Ireland users, please visit the Product Knowledgebase here
---
General Router FAQ

Login Page Greeting
Login Page Greeting
Some DrayTek routers (including the Vigor 3200 3.3.7.2 and Vigor 2830 3.3.7.1) support a login page greeting feature that allows the login page to be customised to display a welcome message before a user logs into the router's Web paged management interface. If the feature is supported a menu called Login Page Greeting or Login Customization will be present under the [System Maintenance] Menu. This feature allows a welcome message to be displayed below the login screen and a title in the login screen. The welcome message can be used to display important information to administrators, such as a reminder to get change authorisation before making any amendments, information identifying the site/router name or site specific information that would be useful.
The login page greeting can be set as shown below. The greeting can include up to 511 characters and will accept HTML markup so items such as lists and images can be included. The login page title will display above the Username and Password prompt.
After the greeting has been enabled the log in page will display as shown below: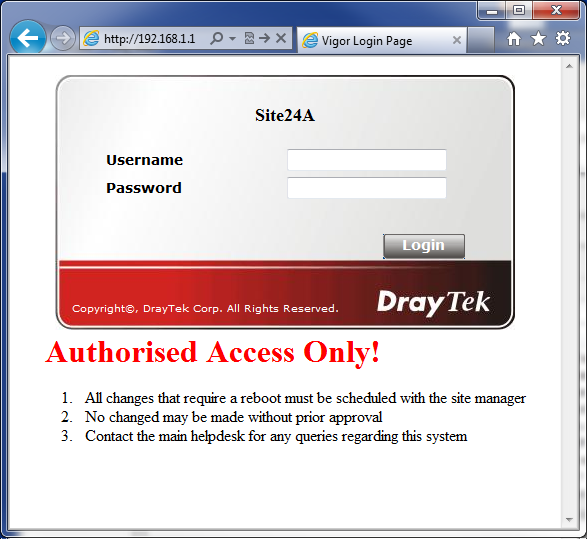 ---
NOTICE : This document is © SEG Communications and may not be distributed without specific written consent. Information and products subject to change at any time without notice.