---
Note : This is the classic/original FAQ. For the very latest articles and new content for UK/Ireland users, please visit the Product Knowledgebase here
---
General Router FAQ

VDSL BT Infinity Setup
BT Infinity provides a VDSL connection from the local street cabinet to the customer premises. The Vigor 2850 supports VDSL and can connect directly to the phone socket via an RJ11 cable. The Vigor 2850 does not need to connect via an Openreach modem but if required (if using 2 VDSL line simultaneously for example) then WAN2 can be connected to an Openreach modem using PPPoE.
---
Setting up the Vigor 2850 to connect to BT Infinity
Using your Web Browser go to the Vigor 2850's Web Interface via http://192.168.1.1 and log in using the default username of "admin" and password of "admin"
The main menu page will appear as shown.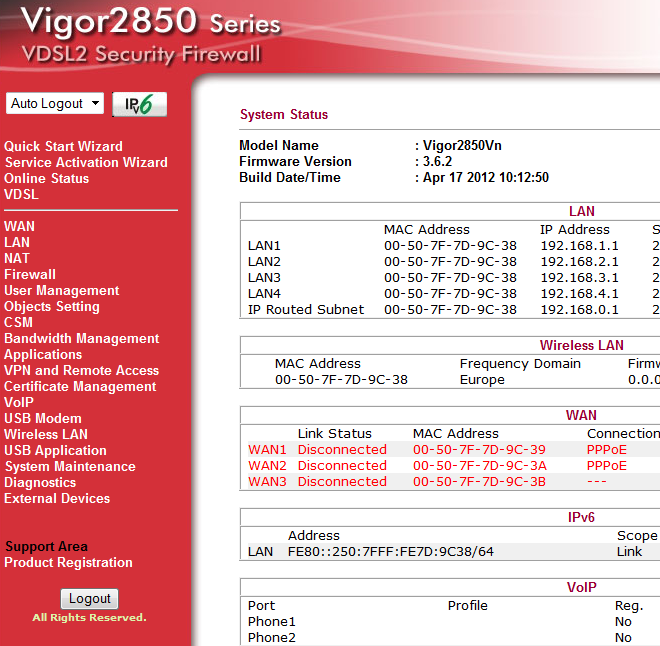 Click on [WAN] > [General Setup] > [WAN1] and set the settings as shown. With BT Infinity the WAN VLAN ID should be set to 101:
Click on [WAN] > [Internet Access] and set the Connection Type as PPPoE. Enter the username / password details that were provided by your ISP in the appropriate fields as shown:
Click on [Online Status] and after a moment the Vigor 2850 will connect to the ISP and a public IP Address should be listed in the Online Status page
---
NOTICE : This document is © SEG Communications and may not be distributed without specific written consent. Information and products subject to change at any time without notice.