---
Note : This is the classic/original FAQ. For the very latest articles and new content for UK/Ireland users, please visit the Product Knowledgebase here
---
Vigor2500V - Email Checking

For POP3 Email
| | | |
| --- | --- | --- |
| Some Vigor routers have an LED marked 'email'. If your ISP (or other email provider) uses the POP3 protocol for their mail server, then you can set your router to periodically check for email, and the LED will light if there is email waiting for you (see right). You can have up to five different POP3 accounts checked. This means that you can see if there is email waiting without having to turn on or log into your PC. | | |
Firstly, be sure that your email software does receive email using the POP3 protocol. That is the most common method, but does not apply to web-based services such as Hotmail (unless they provide a POP3 interface too). You will need to know the POP3 server address, your email username and password. These are exactly the same as you use to set up your regular email software. Select the email option from the main router menu, and you will see five profiles for different servers. They will be blank at first :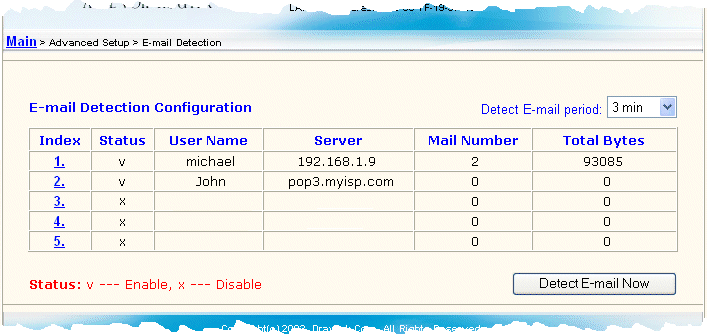 Select one of the profiles and enter your POP3 details, as shown in the example below and remember to tick the 'enable' box. click 'OK' and then back on the previous screen you can select 'check email now' to see if it is working. If there are messages waiting, the number waiting will be shown, as well as the total size of the mailbox; the Email LED on the router will also flash. By default, email will then be checked every 3 minutes; you can change this frequency, as shown on the screenshot.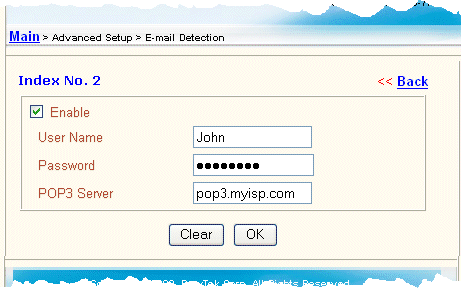 NOTE : You must enter the mail server as an IP address on some models, NOT a URL (e.g. 194.154.1.56 not smtp.mymail.com). To find out an IP address from a name, ping the name and the ping utility should indicate the IP address.
---
NOTICE : This document is ©2004 and may not be distributed in part or full without specific written consent. Information and products subject to change at any time without notice.