---
Note : This is the classic/original FAQ. For the very latest articles and new content for UK/Ireland users, please visit the Product Knowledgebase here
---
Voice-over-IP FAQ

Using a SIP Server
How do I set up and use a SIP Server?
A SIP registrar enables you to set up a 'friendly' VOIP name for people to call and would be the normal way of using your Vigor router to receive voice calls (rather than people dialling your IP address). A SIP registrar may also offer optional value added services such as a PSTN (POTS) gateway. The DrayTEL service is available free of charge; visit their site at www.draytel.org to set up a new account. Once allocated a DrayTEL SIP username/address, for example 899999@draytel.org, any other SIP user (not just other DrayTEL users) can call you at that address.
The following screenshots show typical DrayTEL settings, but check with your VoIP/SIP provider for specific instructions for your model.
Setting up a SIP Server on the Vigor2700V/2800V Series
Setting up a SIP Server on the Vigor3300V Series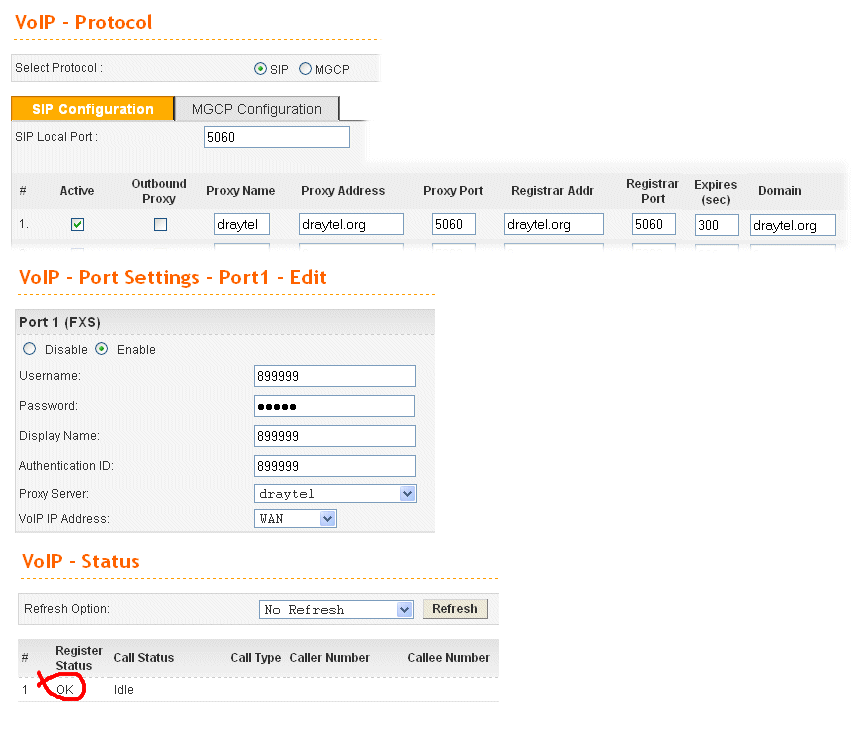 Setting up a SIP Server on the Vigor2600V/2900V Series
Setting up a SIP Server on the Vigor2100V/2500V Series
Do NOT use the Proxy field (on the Vigor2100V) unless VoIP doesn't work without; that is typically only needed if you are behind some other firewall, and shouldn't be used otherwise.
Note : You do not have to have a SIP registrar account; you can receive calls directly on your public IP address, or DDNS alias, but we do recommend using a SIP registrar like DrayTEL as it's easier to be dialled and reached, pariticularly if you have a dynamic IP address.
---
NOTICE : This document and sub-sections are © SEG Communications and neither it or its component parts may be distributed in part or full without specific written consent. Information and products subject to change at any time without notice.