---
Note : This is the classic/original FAQ. For the very latest articles and new content for UK/Ireland users, please visit the Product Knowledgebase here
---
Voice-over-IP FAQ

Windows Messenger
How do I use Windows Messenger to call the Vigor VOIP router ?
You will need Windows Messenger 4.7 or later (WindowsXP); not to be confused with MSN Messenger (see later). You must firstly set up an account with a SIP registrar service (e.g. draytel.org - see earlier). Set up Windows Messenger to use the SIP service instead of the default Microsoft '.NET Passport' method :
Next, sign into Windows Messenger, using the account details you set up :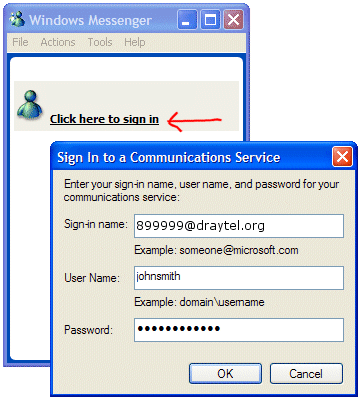 To then make a call to a Vigor VOIP router user, you just select 'Start a Voice conversation' from the Actions menu :
---
How do I use MSN Messenger to call the Vigor ?
You cannot use MSN Messenger; it does not support the necessary SIP protocol. Consider using Windows Messenger (V.4.7 or later) instead.
---
Can I call between the two ports ?
Yes, if your router has two VoIP phone ports (e.g. Vigor2600V) you can make a call from one phone to the other locally. Lift the handset and dial 01 or 02 for the appropriate port (the # is not required). Do not set any dial-plan entries which conflict with these codes.
---
What is the DTMF inband/outband setting for ?
---
NOTICE : This document and sub-sections are © SEG Communications and neither it or its component parts may be distributed in part or full without specific written consent. Information and products subject to change at any time without notice.