---
Note : This is the classic/original FAQ. For the very latest articles and new content for UK/Ireland users, please visit the Product Knowledgebase here
---
General Router FAQ

Disabling Windows DUN
How do I stop Windows from tying to use my dial-up modem instead of the router ?
Once you have your router installed, you may find that your Windows PC continues to call Dial-Up Networking instead of using the router when you try to access the internet.
On WindowsXP/2000, disable the dial-up preference from Windows Explorer :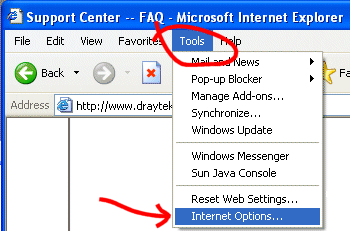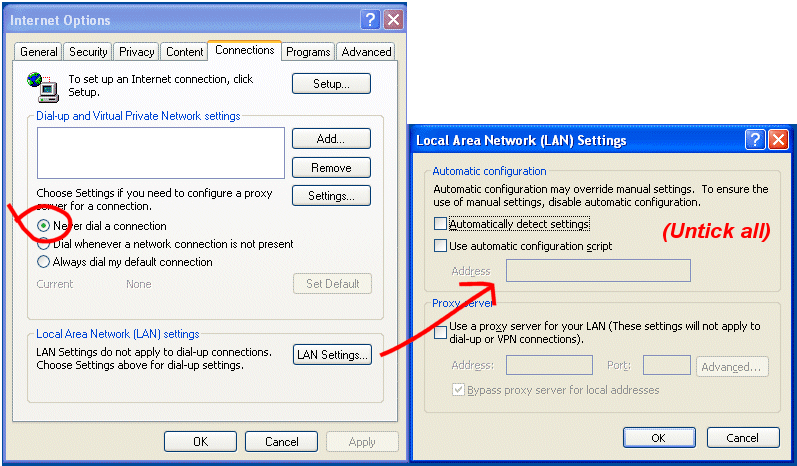 On Windows 98 and earlier you can remove DialUp Networking (DUN) altogether if you donít need it - do this from Control Panel/Network (Dialup Adapter).
If you do need DUN still, in Windows 98/ME, go to Windows Control Panel / Internet Options and check that Connect to the Internet using a LAN is selected. Also, make sure that you do not have any Proxy Server selected.
The screens vary depending which O/S and version of MSIE you have, as shown in the two screenshots to the right.
If you have Microsoft Explorer Version 4 :

If you have Microsoft Explorer Version 5 :

---
NOTICE : This document is © SEG Communications and may not be distributed without specific written consent. Information and products subject to change at any time without notice.