---
Note : This is the classic/original FAQ. For the very latest articles and new content for UK/Ireland users, please visit the Product Knowledgebase here
---
Wireless LAN

Vigor AP-700 - Bridge Mode
The VigorAP 700's Bridge Mode can be used to create a wireless bridge between two LAN segments. A common reason for two networks to be bridged is where it is not possible to run cables, for example, across a road. Both locations remain within the same IP subnet and network devices would not be required to have any special routing information configured in their network settings
In Bridge mode two AP700s are configured to connect to each other directly so that they can provide a route for network devices on either side of the bridge to communicate with each other
---
Bridge Mode configuration
Before configuring Bridge mode it is recommended to change the IP address of one of the access points so that they are not on the same IP Address. To do that go to the [System Utility] page and change the IP address on there to one that the other access point will not be using. In this example it is being changed from the default of 192.168.1.2 to 192.168.1.3. Click Apply on that page to commit the change.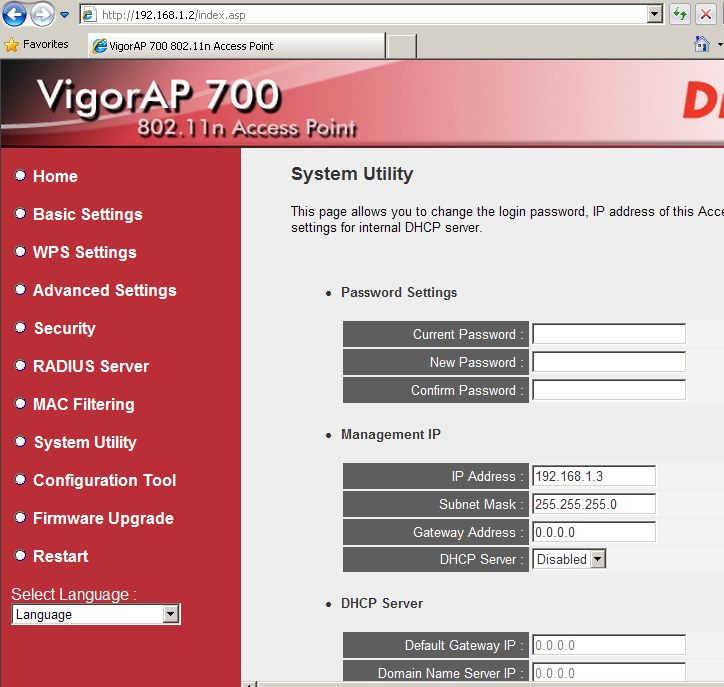 Once you click Apply it will notify you that the IP address has been changed, once the AP700 has restarted it will be on the new IP address so you will need to change the address in the browser's address bar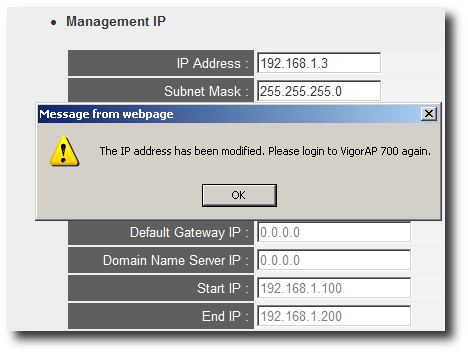 Once you have logged back in to the AP700, you can begin setting up the bridge by going to the Basic Setup page and selecting "AP Bridge-Point to Point", set the channel that you want to use and enter the BSSID MAC address which is on the underside of the AP700 that it will be connecting to or on the Home page of the other AP700. Once you've done this click Apply and Continue to save those settings without restarting then go to the [Security page].
On the [Security page], enter the security settings that you want to use for the bridge, WPA2 will give the best throughput and security. Using WEP or WPA (TKIP) will limit the connection to 54Mbps. Click Apply then Apply that to save the settings and restart the AP700.
Do the same on the other AP700, using the MAC Address on the base of the first AP700 and matching the security details.
Once that is applied the bridge should then be working, you can test this by pinging the IP addresses of each end by going to the Start menu then select Run and in there enter cmd and click OK. At the command prompt, ping the addresses by typing the following, pressing enter after each:
ping 192.168.1.2 ping 192.168.1.3
If the pings time out then re-check the security settings, channel and MAC addresses of each AP700. If the pings are 100ms+ with some time outs then check that it is not causing a network loop, which will occur if both ends of the bridge are plugged into the LAN. If there are stil timeouts and high response times then locate the VigorAP 700 closer together to rule out interference or coverage issues
---
NOTICE : This document is ©2010 SEG Communications and may not be distributed without specific written consent. Information and products subject to change at any time without notice.