---
Note : This is the classic/original FAQ. For the very latest articles and new content for UK/Ireland users, please visit the Product Knowledgebase here
---
Wireless MAC Access Control

Vigor Wireless Routers
WEP (Wireless Encryption Protocol) is an method of data encryption for wireless clients, which makes the sending of your data over the wireless interface more secure. By default, WEP is turned off on the router.
All Ethernet card, including wired and wireless types have a unique hardware 'ID' called a MAC address. This is used by the LAN to identify each client uniquely in order to switch packets correctly. The MAC address is not the same as the IP address (which is at a higher layer). The MAC address is fixed (you can change it on some adaptors, but this should only be done in specific circumstances, and not here!).
By setting up an access list on the Vigor, you can restrict access to the wireless interface only to those wireless clients you specify. This is easy to set up. Firstly, you need to find out the Wireless Client Adaptor's MAC address. This can be discovered by using the ipconfig /all command from the Windows Command prompt :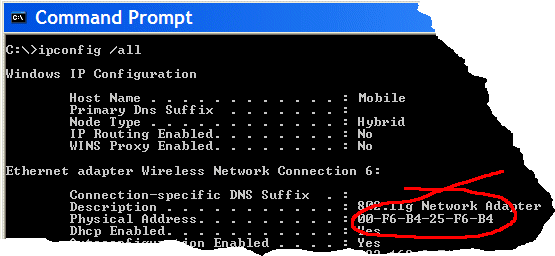 Note down the MAC address (circled red above); it is six hexadecimal digits. If you have more than one Ethernet interface on the PC, make sure you select the MAC address from the right one.
Next, in the router's Wireless LAN, Access Control menu, you just need to tick to enable the feature and then add in one or more MAC addresses. Once you enable the feature, only clients with those MAC addresses :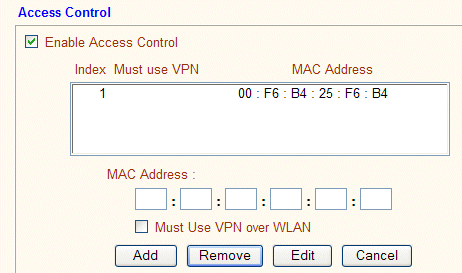 Enter the MAC address into the boxes and then press the Add button. Don't forget to click Add before you click OK, as if you press OK first, the MAC address isn't in the access list yet and you'll enable access control with no clients, so you'll lock yourself out (wireless interface only -wired clients won't be affectved). If you do this, change the settings back from a wired PC, or reset the router using the reset button, which will wipe all settings.
---
NOTICE : This document is ©2003 and may not be distributed in part or full without specific written consent. Information and products subject to change at any time without notice.