---
Note : This is the classic/original FAQ. For the very latest articles and new content for UK/Ireland users, please visit the Product Knowledgebase here
---
Using WPA Encryption

DrayTek Vigor Wireless Routers
The Vigor2600G/2900G Wireless routers support WPA (as of Q2/04) - an auththentication/encryption standard from the WiFi Alliance; WPA is intended to replace WEP encryption, being considered to be more secure robust and secure and is a pre-cursor to the eventual IEEE 802.11i standard. For WPA operation, both 802.1x authentication and TKIP encryption are mandatory. WPA is supported by WindowsXP (Home and Professional); more detail of the WindowsXP implementation is available here.
For Windows XP, you require to have Service Pack 1 (or later) installed.
Before setting up any wireless security features on your network, check that the wireless network is functionally normally and reliably without any such features enabled. A reliable wireless connection is an essential foundation for a secured reliable wireless connection !
Note : As of WindowsXP SP1, Microsoft have removed the MD-5 method of 802.1x authentication from WindowsXP. Therefore, if you were using 802.11x with MD5, you can now only use the Radius method (and therefore setting up a Radius Server on your network). This does not affect TKIP encryption.
---
Setting up TKIP Encryption
Firstly, you need to enable encryption on the router, and select a key :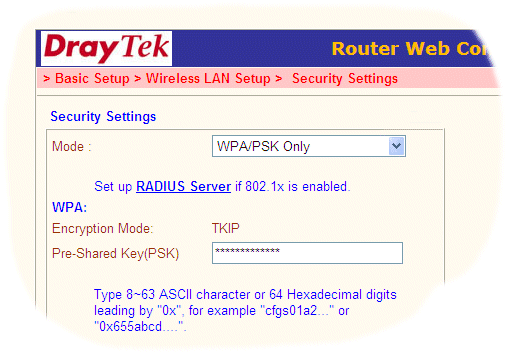 In the WindowsXP Wireless Setup, you then need to enter the same key :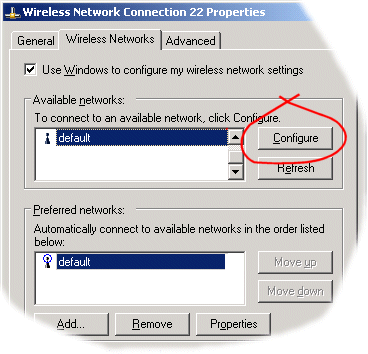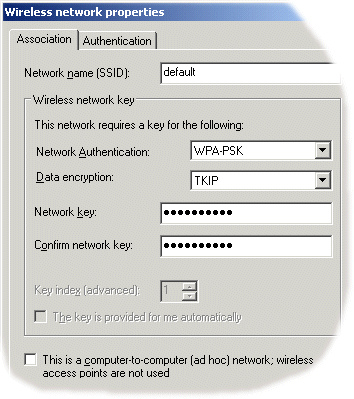 When you enable the encryption on your Wireless client or change any other settings, the interface will normally re-initialise itself, and the signal level will momentarily go from no-bars back to the actual signal level :

Note that in the examples above, our Vigor wireless interface SSID is still called 'default'. We recommend that you change this to something more obscure (do this from the router's Wireless setup menu).
---
NOTICE : This document is © SEG Communications and may not be distributed in part or full without specific written consent. Information and products subject to change at any time without notice.