---
Note : This is the classic/original FAQ. For the very latest articles and new content for UK/Ireland users, please visit the Product Knowledgebase here
---
General Router FAQ

Activating GlobalView
Activating a GlobalView Subscription
IMPORTANT NOTE: DrayTek routers which support GlobalView come with a one-time 30-day free trial of GlobalView. If you have purchased a 12-month GlobalView subscription, you should apply the subscription only once the trial expires in order to maximise your value (effectively giving you a 13-month first period). Subscriptions cannot be set to automatically run consecutively so a new subscription will permanently cancel/void any previous subscription or trial period.
You GlobalView subscription provides you with DrayTek's Web filtering service, where web sites are categorised according to content type so that your users, or groups of users are blocked from accesses those categories which you consider inappropriate or unsuitable. For further details of GlobalView, click here.
Access your router's Web interface and select the 'Web content Filter Profile' menu under 'CSM'. You will see your subscription status shown, which will be 'Status : Not Activated' initially. Click the 'Activate' button shown:
That will take you directly to the MyVigor Web Portal. From the MyVigor Portal, you control all DrayTek service subscriptions. If you do not already have one, you will need to create one (details here). If you already have a Myvigor account, log in with your username and password:
Adding your product to your MyVigor Account
If you have not already done so, your actual Draytek product needs to be added to your MyVigor account. Under 'My Information' you will find your products. Click 'Add' to add your new product:

Please take a moment to answer a few questions. This genuinely helps us to survey our users opinions and satisfaction. You can change your responses later if you wish. Click Submit when you're done:
Activating your GlobalView Free Trial
You can activate your 30-day trial once only (for each new router) so don't activate it until you're ready to use it. Now that your product has been added, you can access its subscription profile by clicking on its serial number:

The current subscription status is shown. Click on 'Trial':
Tick the check box to confirm that you are happy with the GlobalView terms and conditions:
Check the activation date (it should be today) and then click 'Register'. You can forward date it, but that could be a problem if you set GlobalView to strick block mode as you will have no internet access until that date without an active subscription:

Your trial subscription activation will be confirmed:
Checking your subscription status
Activating a full GlobalView Subscription
At the end of your current subscription or trial period, you will need to activate a new subscription in order to continue having the benefits of GlobalView. You can obtain a new subscription pack or key from your DrayTek dealer.
Log back into the router and in CSM/Content filtering, click the 'Activate' button as shown:
That will take you to the MyVigor Portal. Log into the portal and locate your router. Bear in mind, you may have lots of routers, so be sure that you select the right one. Click the 'Serial Number' link:

The status of your subscription will be shown. Remember that activating a new subscription cancels any previous subscription or trial period if it is still valid so if your current period has not expired yet, you may wish to wait until a later date. Click the 'Renew' button: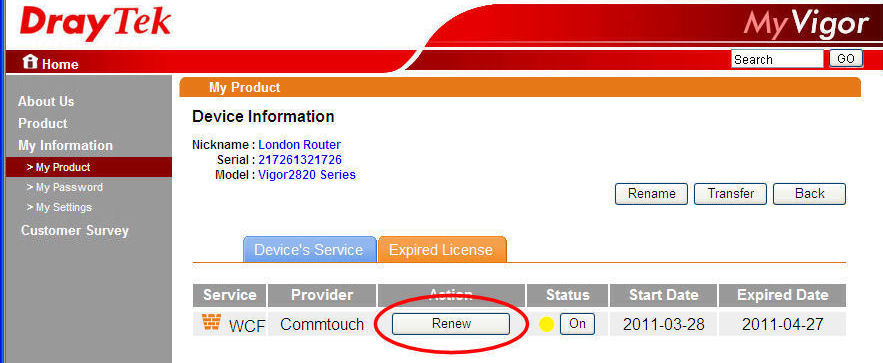 The subscription pack for GlobalView contains your activation code. The code can be used once only and should be treated securely until you are ready to use it. Enter the activation code and click the 'Add Licence' button: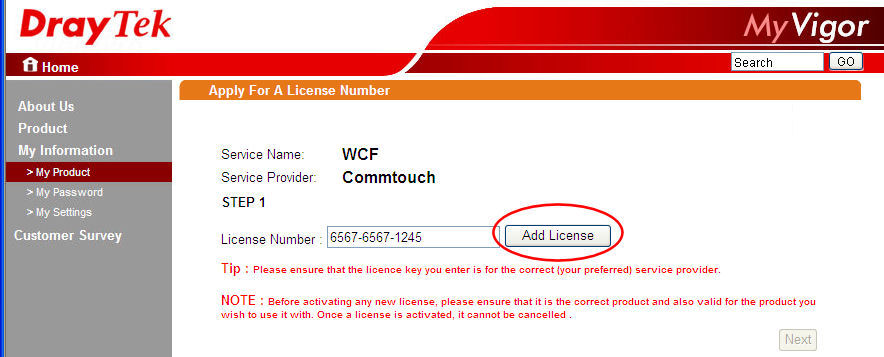 Your new subscription is now activate:
---
NOTICE : This document is © SEG Communications and may not be distributed without specific written consent. Information and products subject to change at any time without notice.